It's a no-brainer: a modern website needs a contemporary, fashionable design that won't go out of fashion in a year. Today we'll tell you how to achieve such a look without losing tons of time and money by utilizing pre-built templates.
What's a pre-built template and why does it need to be SEO-friendly? Well, consider launching a new website tailored to maintenance business or handyman services. People expect to look at a website today and see a pleasant, well-lit and thoughtfully-structured design, not the obtuse and distracting mess the craftsmen's websites of yesteryear so often employed. What's the best route that leads to a great-looking website? Well, you can hire a designer: it's easy, right? Nope, it's not, as you'll lose significant time, money and energy trying to convey to the designer just what it is exactly that you want, then you'll wait months for a result and then you'll pay a not-so-small fee for a result you don't really like that much. That's the point at which pre-built and ready-made WordPress templates tailored for maintenance industry come in.
Well-designed and smartly devoid of unnecessary visual excesses, those templates are pleasant to look at and even more enjoyable to use. You don't have to worry about the technology part of the things, as those templates support the latest web technologies, like HTML5, Bootstrap, CSS3 and Parallax, right out of the box. Want to launch your website in some other languages? With WPML plugin support, it's very easy. Perhaps most importantly, the themes we're talking about today are responsive, meaning they look great on any device without the need to maintain a separate mobile version. As the themes in this article are all examples of work by TemplateMonster, you'll get a world-class high-quality lifetime support they are known for, when you purchase their templates. And it's easy to purchase them, as they all cost less than a hundred bucks.
However, it all doesn't make sense if your website is not on the first pages of Google's search query. Search engine optimization is king these days, a key to the future success of your business. Don't have the time on your hands to involve yourself with the process? Well, you're in luck, as the WordPress maintenance themes below are all SEO-ready. That means that their structure, layout and overall feel were optimized according to Google's standards. It makes it easier to get going in the SEO game and climb on the top of the query. Check what does SEO-expert Ashley Faulkes think in case you want to know more:
Ready to get going? Let's start with our top picks of WordPress maintenance and small business pre-built themes. There are so many great-looking website designs here that you're bound to choose something by the end of this list!
WordPress Template for Making Roofs Better
Think about your clients when you're launching your roof repairs company online. They want a no-frills, easy-to-follow experience that will nevertheless confirm for them that your company know how to make a sturdy and nice-looking roof. This pre-made template isn't the most overblown with rich colors, animations or trendy design tricks. But it doesn't have to be. Instead, its simple structure, grid-like image carousel in the header and accent on using one color make a statement: you mean business and you mean it good.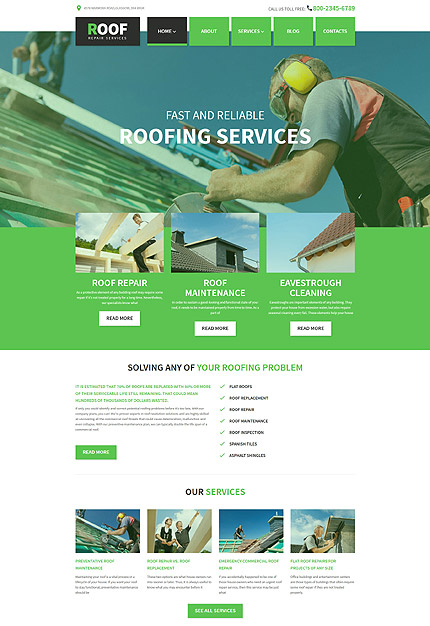 WordPress Theme for Plumbing the Heck Out of It
The importance of a simple design that doesn't throw your visitor into a visual limbo is clearly underappreciated, even though the designers talk about it all the time. Pay attention to the elegant way this WP maintenance theme works its way around obtuse structure so popular in other designs. A few splashes of bright color serve as a visual marker for a visitor, while clean dark gray-on-white typography makes it particularly easy to read everything you publish on the main page.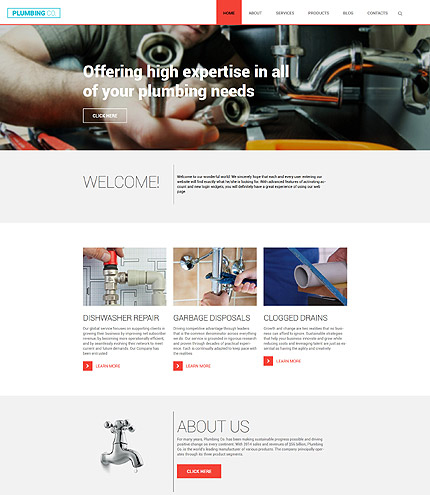 WordPress Layout for Cleaning a Pool with a Smile
Want something a bit more leftfield, creative and bold for the WordPress website you made for your pool cleaning services company? Well, consider yourself to be in luck: this gorgeous pre-made WP template is a beauty to behold. It doesn't shy away from using crisp full screen images and beautiful huge types in order to achieve what it has in mind: total visual dominance over any other website your client may have encountered. In other words, once you see this one, you won't forget it soon.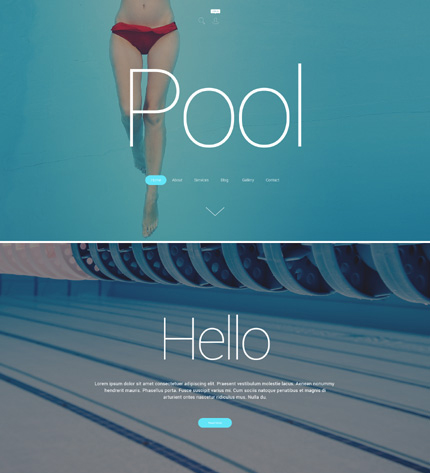 WordPress Design for Cleaning Services That Work
You're definitely not selling you cleaning services if your website is itself in need of a cleaning. That's why purchasing this pre-built WordPress template for a small cleaning business is a great idea. It's stylish (check), colorful (check) and understandable at first glance (check, check, check). A few smart ideas, like a phone number highlighted in a different color and placed on top of a header image, make this template even more of a useful choice.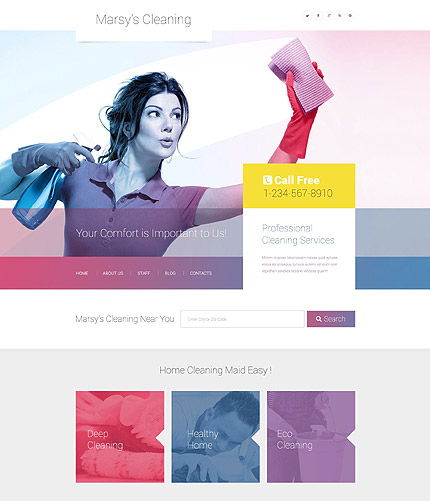 WP Template for a Fun Cleaning Experience
If the previous position in our today's list is a bit too restrained for your taste, what would you say to this one? It's every bit as simple and minimal as any of the other popular pre-built template you'll find out there, but the centerpoint of this theme is in its colors. The designers behind it put a great emphasis on using colors in a fun, interesting ways, combining several bright shades to create a stunning visual imprint.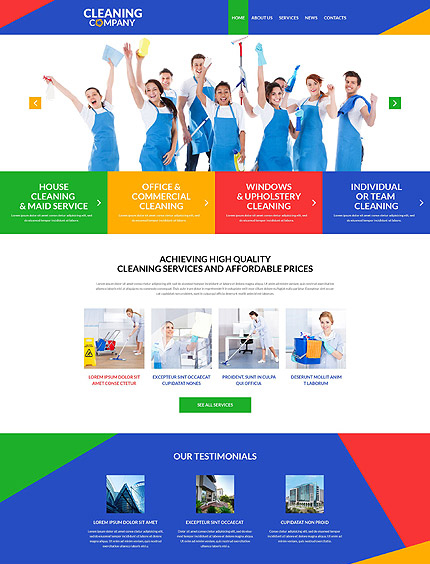 WordPress Design for Finding Your Color
The minimalist style is nowhere near out of fashion and it's only going to get more popular. If you're in the business of selling paints and making painting projects happen, think about going with a simplistic design for your website, like this one. Thing is, there's bound to be a lot of colors on your website already: implementing a simple non-distractive white structure to lay beneath everything is a smart choice.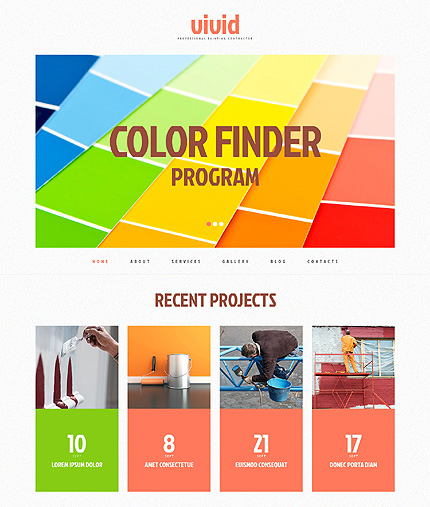 WordPress Template for a Comprehensive Service
The best part of this ready-made WordPress template is, hands down, its smart 1-2-3-4 menu in the header area of the design. It's a smart, iconic visual trick: people who visit your website will stay on it to explore each part of the menu. The deep gray and bright orange compliment each other nicely in the header part, while simple black-and-white color palette in the middle parts works its wonders for readability.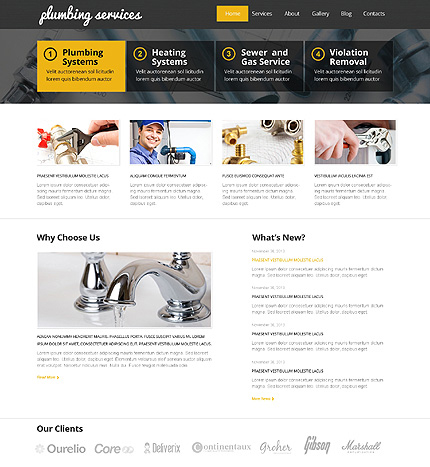 WordPress Layout for Fresh and Green Lawns
If you're in business of mowing lawns and making people's lives better while doing it, promote yourself with a refreshingly simple website design utilising this pre-built WordPress template. Clean white header serves as a business card of your website, while everything that comes next is a very visual, image-focused mission statement of your business.