The WordPress themes market is like the modeling world. What? Did you think the life of a model is easy and pleasurable? That models live like in heavens, visit the luxurious parties, wear fancy clothes and do almost nothing? You are very wrong then because the modeling world is more like a box with snakes or a pool with sharks – harsh competition, strict limitations, and constant hard work. WordPress templates market is also something like that. It is very good for users because they get the best products possible, but the fighting behind the scenes is cruel. There will be only one survivor! (In fact, there will be much more than one, but you got the point).
With the launch of WordPress 5.0, some of the requirements changed. The WP team announced they are going to include the new default page builder into the next update about a year ago. The news about Gutenberg shake the society and most of the template creators start to prepare for it. That's why a lot of WordPress 5.0 compatible themes were already on the market when the update has been released. Marketplaces start to put "Gutenberg compatible" banners on their products (look at this responsive website templates from TemplateMonster – the red banner is right there). So, technically, there are dozens of templates, compatible with WordPress 5.0. But as it is the latest update it is worth the best themes, created according to the latest trends. I will list you the features you have to check out when choosing a template so that you could be sure you get the best item possible. In fact, it's enough if the template has at least one of them. Let's take a look!
By the way, if you need fresh and quality design & development bundles you could find it on MasterBundles.
1.Fast loading
Nobody likes to wait, the time is money and users don't want to waste it. The longer your website loads – the smaller is the possibility users will patiently wait for it. It is more likely that a person who had to wait longer than 10 seconds will leave the slow website and go looking for a faster one. When looking for a template for your shop or blog make sure it will be the fastest possible one, so you will have some spare space for your content.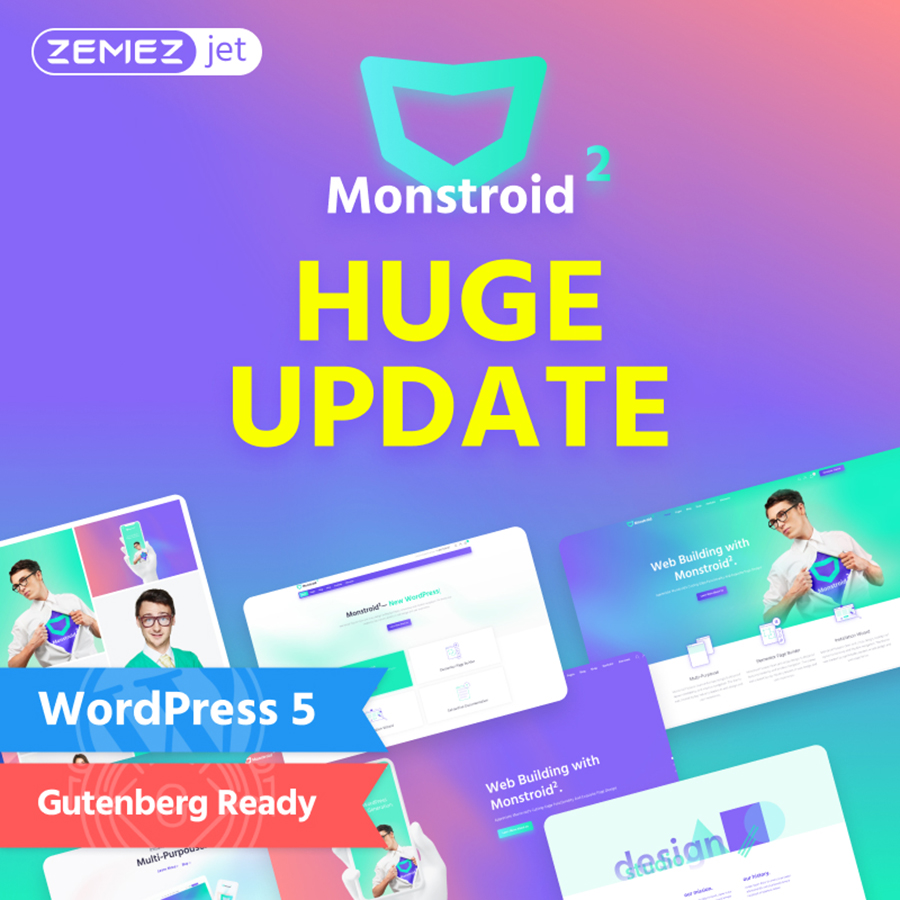 For example, take a look at the Monstroid2 template. This thing is light as a feather and as fast as lightning. The Google Speed rates of this theme are magnificent – Performance Grade is A93 and loading time is 1.2 seconds. The homepage of your website will appear on the user's screen in a blink of an eye! If you want some additional details – check out this video about Monstroid2:
2. Mobile-first
Modern society addiction to smartphones and constant internet connection is such obvious that a bunch of jocks, memes, and quotations have already appeared about it. It could be funny indeed, but at the same time if you want your website to be sufficient you need to make it responsive. People surf the internet while going to work or go home and you can't afford to ignore them, otherwise you will be the one ignored. The template compatible with WordPress 5.0 has to be built on mobile-first philosophy.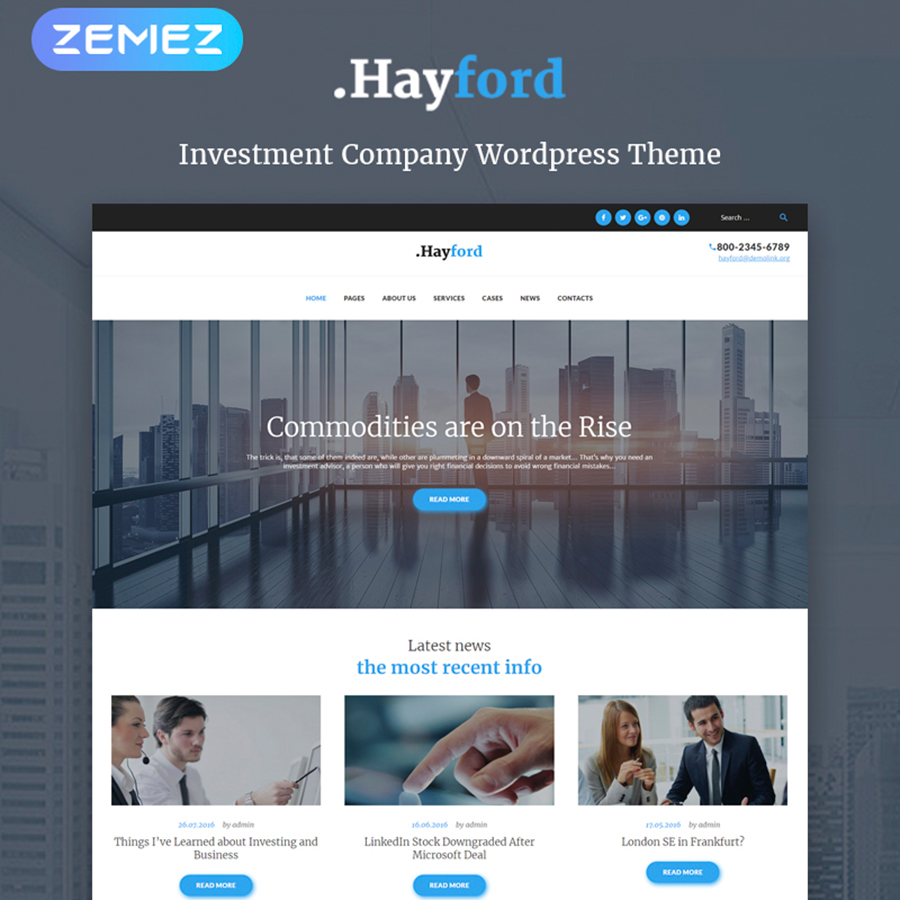 Hayford theme creators were thinking about responsiveness while building it, so choosing it you can be sure that the pictures will look perfect either on PC big screens, tablets, and mobile phones. This template is a real modern business company website solution, stylish and reachable from every device.
3. SEO-friendly
Search engines are capricious – they can find a website only if it is properly organized. The biggest part of search engine optimization lays on a special person, SEO professional, but if the template you choose is clear and accurately coded it does a part of a job. The themes created with SEO in mind are easier to customize and get the higher search ranks. If you want the clients to find your website on the first Google search results page – you need to get yourself an SEO-ready template.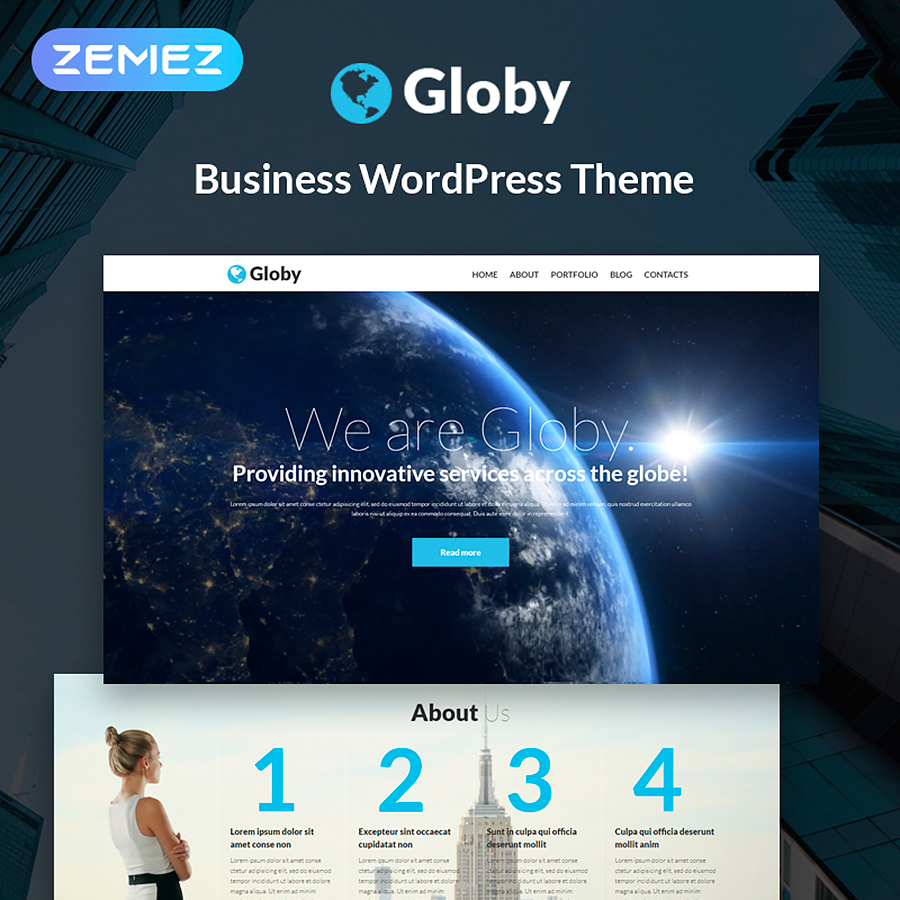 You can take Globy theme, by the way. It has valid and clear coding, understandable documentation and is definitely SEO-ready. Either you do it for yourself or hire a specialist, it won't take too much efforts to make your website fall to the top of search rates if you use this template.
4. Flexibility
Every template has to be customized to fit the unique requirements of a concrete business. The more versatile the template is, the more pre-made pages it has – the lesser will the user have to change. Multipurpose WordPress 5.0 compatible templates will be the top trend of 2019, so keep that in mind. When you download a template with a bunch of pre-made pages – it gives you an opportunity to construct any type of website you like without writing a single row of code.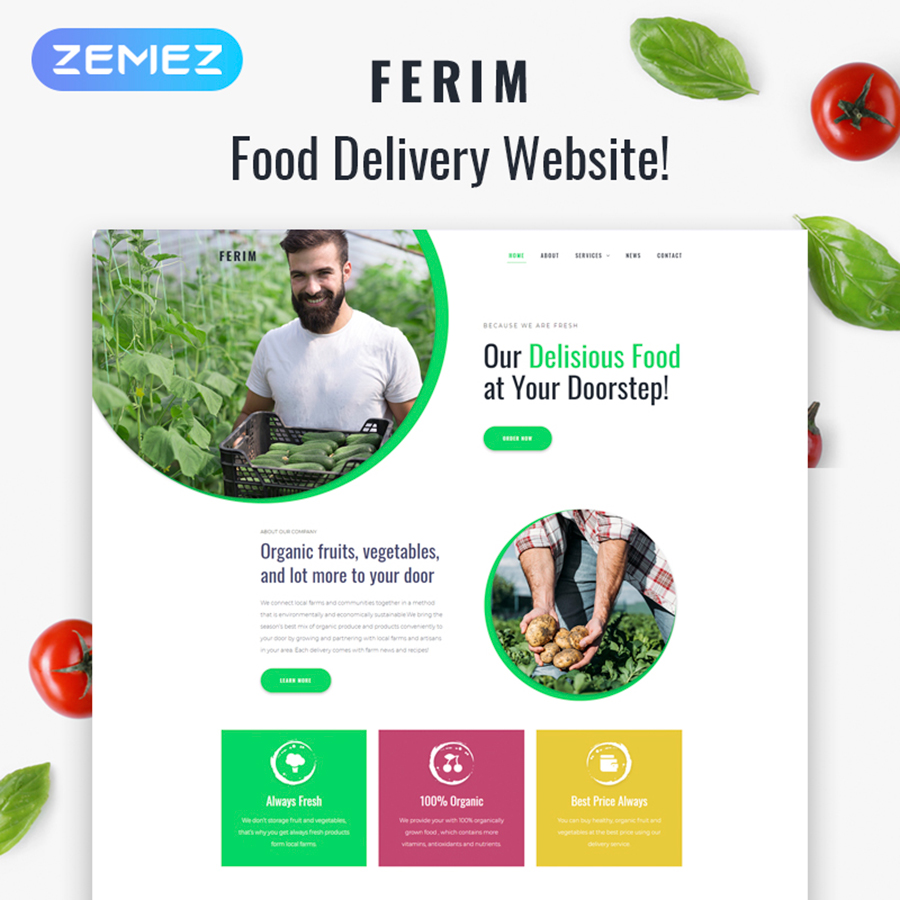 Pay attention to Ferim – a perfect multipurpose template for a food delivery company and a farm. It has a handful of ready-made pages, so you can combine them any way you like. If your business is connected with food or plants – you just can't miss this WordPress 5.0 compatible template.
5. Transformable
Imagine the situation when you create a blog and that, after a few months, realize that you will get a sufficient income if start selling something. To add an online store to your shop you will need it to be ready for such an action. Or maybe you created a corporate site and then want to add a blog. You will need the template to have a blog option. A lot of themes are made compatible not only with WordPress 5.0 and Gutenberg but with different eCommerce software too and lots of themes have blog module you can use or deactivate.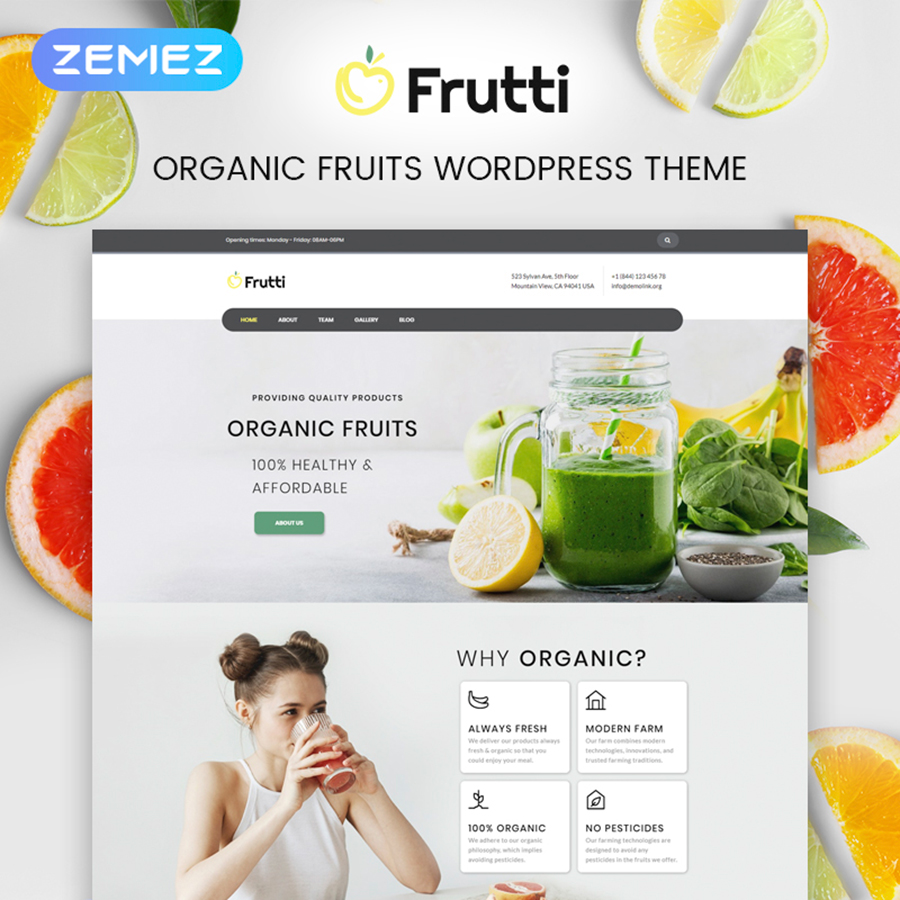 Frutti template is Ecwid-ready, which makes it an ideal candidate to become an online store. With it, you can start as a lifestyle or healthy life blogger and after some time, when your audience will be big enough – open a little store of fruit juices or healthy nutrition.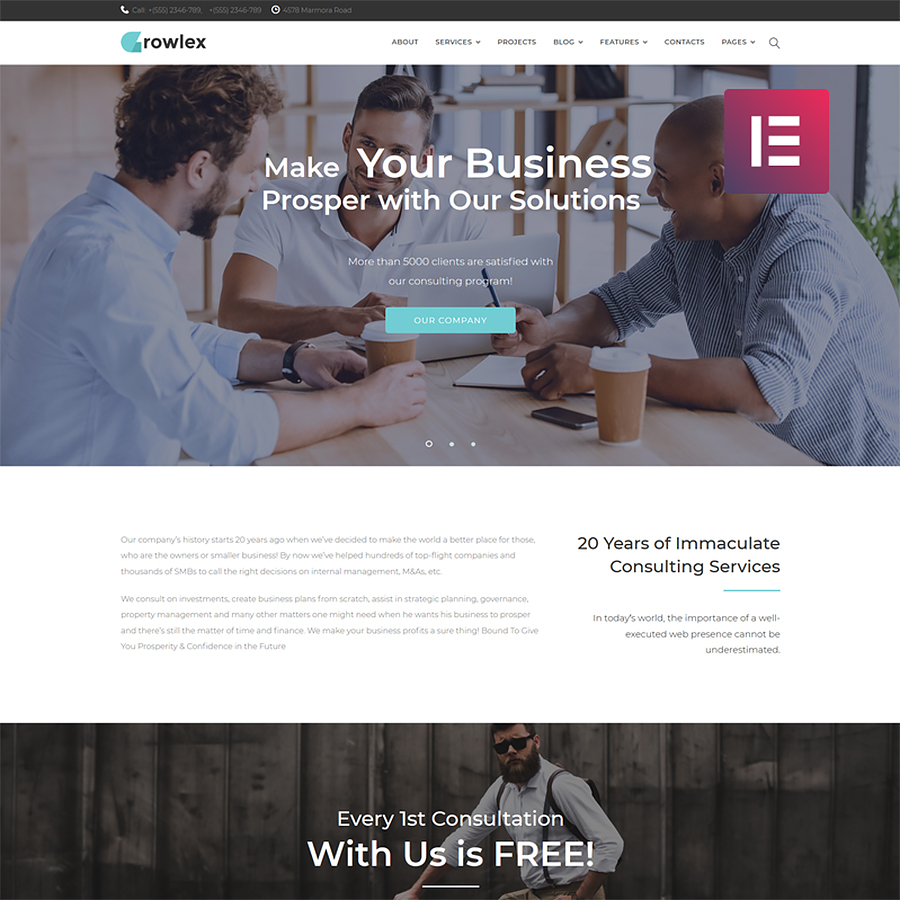 On the other hand, Growlex is a template perfect for a business company (it could be a digital agency, marketing company or law firm). If you would like to add a blog either the latest company news or a gallery with photos of employees – it won't be a problem, because the theme includes that blocks. It will take just a few clicks to activate it.
6. Animated
Animation effects, if they are chosen and added with taste, could sufficiently spice up the website and make it more attractive. Smooth parallax effect and accurate hover animation (like animated boxes and tiles) decorate the pages and add some dynamic feeling to it. If your website has to be connected with motion – choose the template that will not only be compatible with WordPress 5.0 but also has some animation.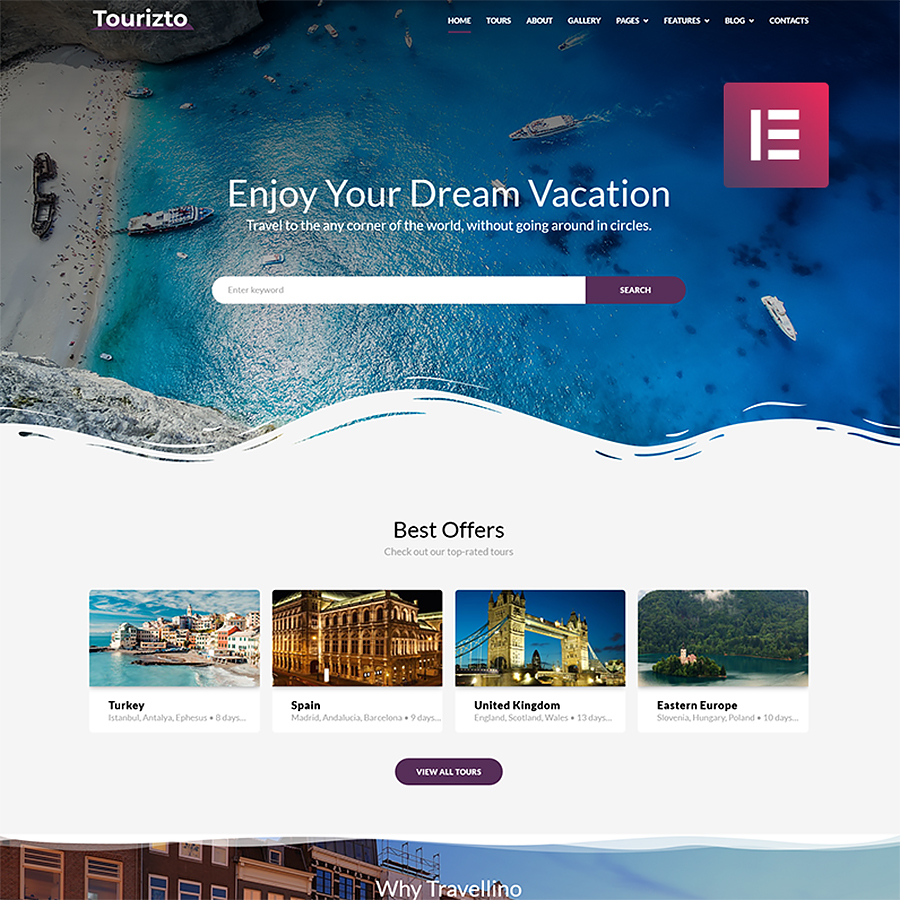 Tourizto template is a perfect example, it was created for a tourist agency or travel blog, and what could be more connected with motion than traveling? Template creators added animation effects as a rare spice – it makes the theme more attractive, but there's not too much of it, so the taste is not ruined. If you liked the theme and would like to know more about it – here's a video:
7. Navigation simplicity
Nothing could make the visitor leave the website faster, then inconvenient navigation (except, maybe, slow loading). Nobody will desperately seek some information or product on your website – the client will just go away and try to find it somewhere else. That's why modern, WordPress 5.0 compatible website should have simple and understandable navigation (mega menus, sorting options, AJAX search tab will do the job).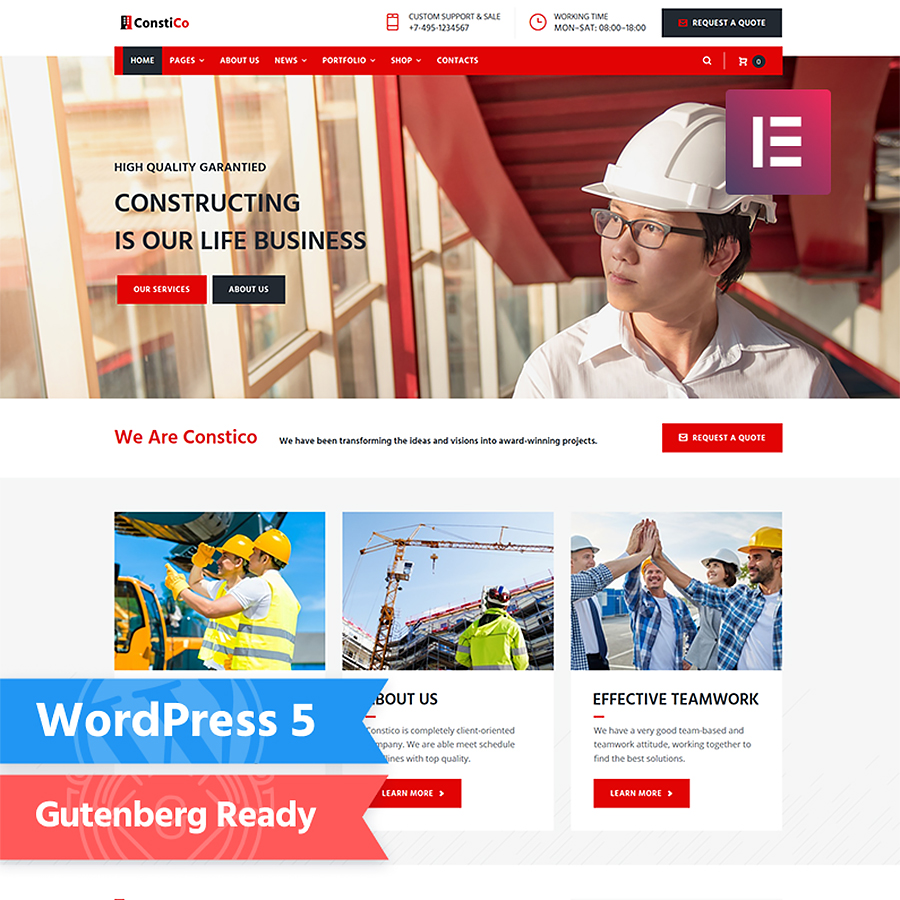 Take a look at this nice construction company website. The visitors of a construction-based website expect it to be easy in use – in the end, its owners build houses that have to be convenient. Constico template will help you to match the clients' expectations and makes it pleasurable to go through the site.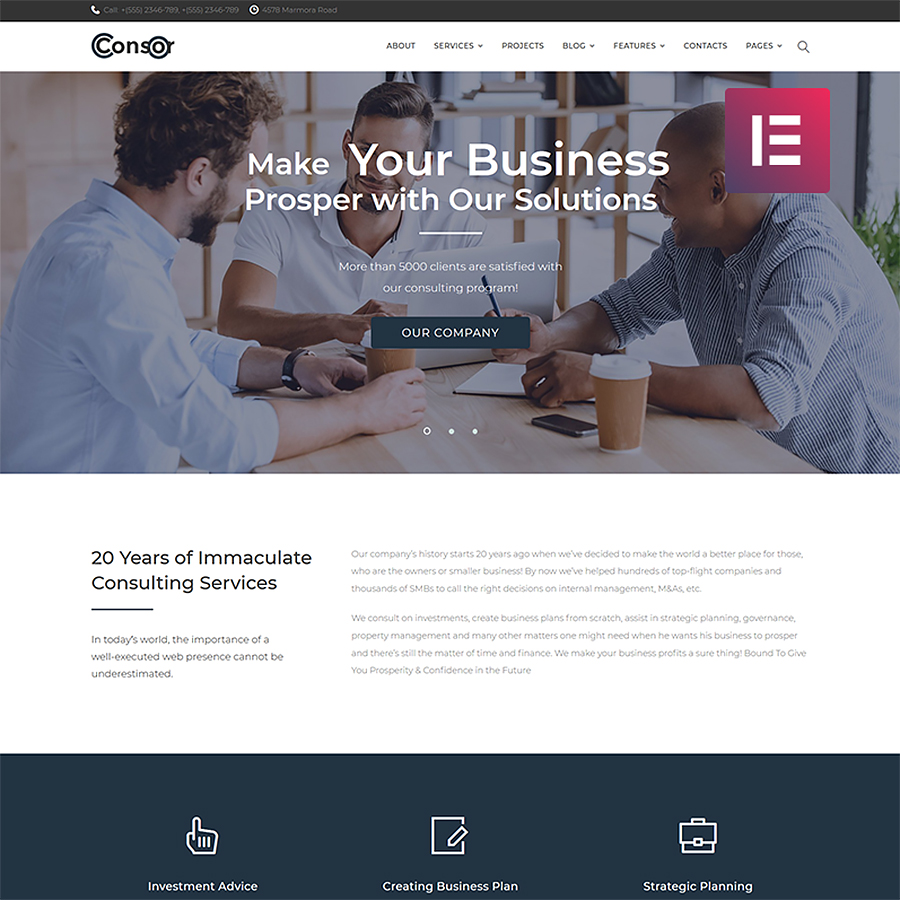 The same situation is with Consor template – the visitor meets no issues when he wants to find some kind of information. The theme was built for a business consulting firm, so it would be strange if a user won't be able to find a piece of advice he needs on such a website.
8. Tech support
If there's a problem and you don't know how to solve it is very important to know where to go for advice and support. Before getting yourself a template check carefully if the marketplace offers enough tech support. It will be definitely useful to know how much time you will have to wait for the response and what kind of help you will be able to get.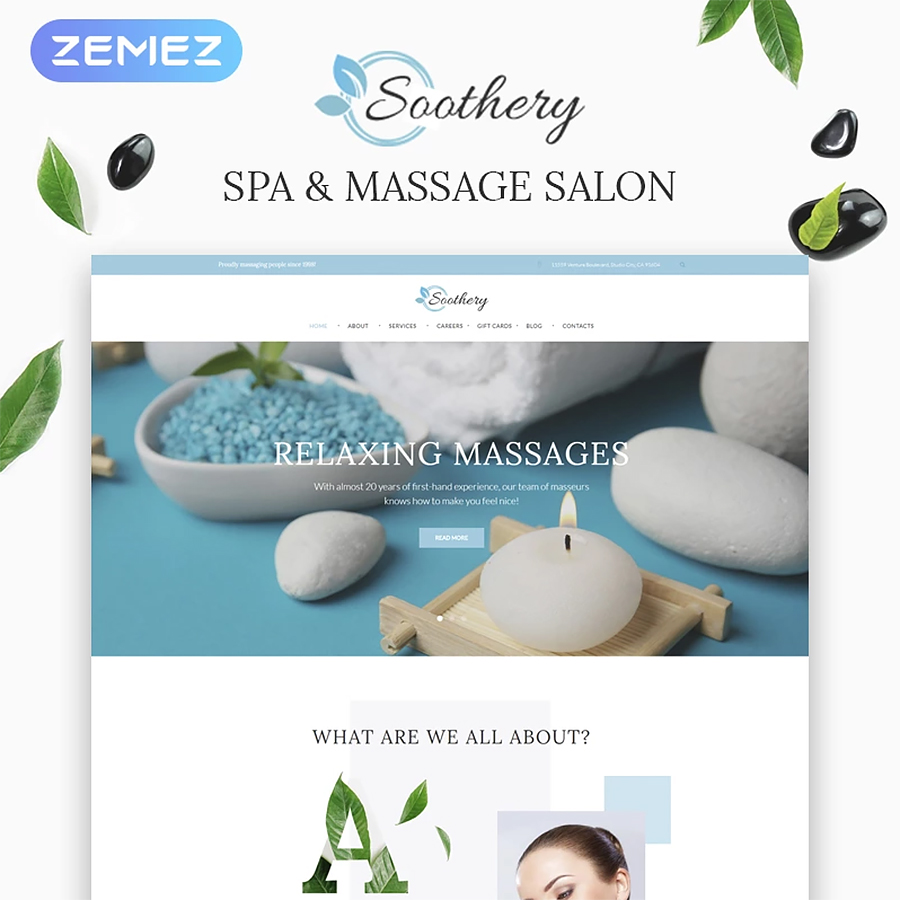 Soothery template, just as all TemplateMonster themes are supported 24/7 by a friendly tech support team. If you have any problems you can not only leave a ticket but also have a chat with the support specialist or even get some help via phone call. TemplateMonster is rightfully honored with the level of support it gives to clients, so you won't be disappointed.
Conclusion
Look at your chosen template, then back to the list. Then back at your template and again to the list. If your theme has at least two of listed features – you did everything right and have chosen a good solution for your website. Popularity is a very capricious thing, trends appear and vanish very quickly, but if you choose a WordPress 5.0 compatible, professionally designed and filled with useful features template it will serve you much longer than some low-quality samples. Don't hesitate to spend some time choosing and I guarantee that results will be worth it.