Looking to get huge discount at Template Monster? Please read my review with coupon code for same.
Template Monster is a template and theme provider for your websites since 2002 their focus lies solely on developing and selling high-quality templates.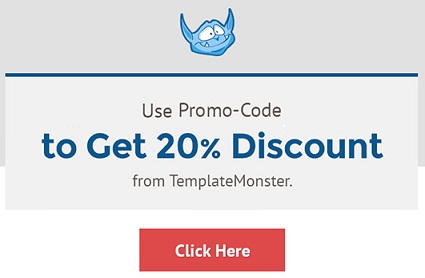 Themes are optimized for speed, SEO and general easiness of use. TM gives you templates to build your website without much effort put into backend activities like coding and analyzing SEO. With time you can modify your template and add your own elements, but for newbies, it is a great tool to start their online career.
Template Monster Review
According to the official site, TM offers over 26000 products to choose from, the templates library is based around six spheres including:
– Facebook Layouts
– E-Commerce
– Mobile/Responsive Development
-Moving Content
– Experimental Design & Technology
– Web Design & Development
No matter what CMS are you using, TM got you covered with:
– The most popular CMS for blogging
(WordPress, Joomla, Moto CMS or even Drupal themes for advanced users)
– Website templates
(Ranging from HTML 5 to Admin templates – organizing your backend efforts)
– E-Commerce templates
(From easiest like Shopify to advanced like OsCommerce)
If you don't know which theme and CMS will work best for your site you can ask for direct guidance from 24/7 TM online support and create a special offer suited to your needs, which includes:
– Choosing Theme
– Price option (additional services includes installation and hosting services)
– Template customization (get exactly what you want to be done by professionals)
– Stock photos*
– Source files for your templates *
– Built in features *
* – with some themes comes in a package with no additional charge.
How to find and use Template Monster Promo Codes?
Let's assume that you want to start your first blog.
If you aren't that much into coding or don't have much time while starting you can choose WordPress.
Choose WP Themes from CMS Templates.
If you click "Get it now" from the "Get the Best WordPress Theme" you will be taken to Monstroid WordPress Theme that is best suited for new customers.
If you aren't interested you can scroll down and choose a category from "WordPress Themes Categories".
Let's choose "Art School Responsive WordPress Theme" that is a simple drag and drop Theme to create an art portfolio for example.
After studying the offer you can choose to buy the theme with 100% GPL License for 75$. That is your basic price for the theme, but you can also check out additional services like installation + 1year of hosting (82$) or even building a full website with the details you provide (249$).
As you can see, the full service from Template Monster can be very pricey, but there is something that you can do about it.
Template Monster promo codes are one time usable promotion that you can use at the time of buying themes, plugin or template. You just need to login to your account and add your choice of template into cart. Now, go ahead and complete checkout process with the help of fb coupon given here.
Right now, there is no any active discount coupon. I regularly update my page, so please bookmark us for your future reference of template monster.
Template Monster is the highly reviewed brand for themes. Read my review with discount coupon and promo code.