Earlier we posted FREE tips for downloading Whatsapp on blackberry and now it's time to install messenger application for Java and Bada OS.
Whatsapp is a widely used messaging application in the world today having over six hundred million users and available on quite a large number of mobile platforms and of all the mobile messaging apps. It is the most rated app that allows people to send texts, videos and files through the internet without paying any additional cost to your network provider.
Furthermore, WhatsApp can even be used on a personal computer. You can download it for your PC. it has voice messaging whereby you can just record short length audio messages and send it to your friends; also there are no ads on the messenger app and the privacy option is taken very seriously, so you are well protected.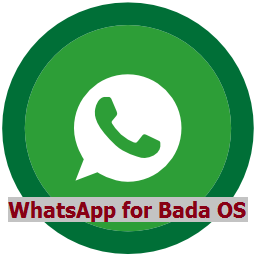 The whatsapp user base seems to be growing with each passing day as a result of the operating systems like Android, windows, blackberry and iOS. But then there are other operating systems such as Bada OS which was developed by Samsung Company while there is also the Java OS present in quite a number of low end smartphones on which whatsapp cannot work directly and as such needs a circumvented process of installation in order to run as an app on these kinds of phones. Some Java or Bada OS whatsapp supported phones include Samsung mobile devices running on Bada OS like chat, chat duos, wave, wave 2; Nokia mobile devices running on Java OS like C2-03, C2-00 as well as Java supported LG phones. If you are blackberry messenger app and want it's apk for android os or want bbm for pc then you should check our previous post.
How to Download and Install Whatsapp for Bada OS and Java?
We have tested and compiled the steps that you can easily follow to have famous messaging application on your  Java enabled Smartphone.
First process is to get a PC and download the Whatsapp.jar or Whatsapp.jad file for java phones while for Bada OS phones, download whatsappBada.jar or Whatsapp APK on the PC.
After this is done, the next process is to connect your Java or Bada OS running mobile phone to the PC on which the files have been downloaded either through the use of a USB cable or Bluetooth.
Next is to send the .jar or .jad file to your mobile phone using windows explorer depending on the configuration of the phone. Then disconnect the phone from the PC.
After unplugging the mobile phone from the PC, you go through the file manager to discover where the Java or Bada file was stored after which you then click on it to start installation.
PS Note: Installation might take few minutes so just wait for it to finish the installation and then you can start using it, start enjoying free conversations with friends and family and keep in touch with them constantly at little or no cost while also sharing videos of memorable moments with them.
See : Top rated VBA Password Recovery tool
However, it might happen during installation to experience some glitch such that the app fails to install and should you be faced with this kind of problem, ensure to do the following:
Ensure that there is good network connection in the area you are located.
Ensure that there is enough memory for installation of the app.
If after installation it does not work, then switch off the phone and switch it back on. It should definitely work after all of these.
Congratulation! You have successfully get Whatsapp messenger for FREE on Bada and Java os phone. Now you will see your friends list and you can chat with them without any problem. In case of any question or queries you can contact us by commenting here.