Blackberry Messenger (BBM) is an instant messaging application which allows users to exchange messages over the internet. Originally, this application was developed only for blackberry devices, meaning that people who have blackberry phones can only use this application. But, Blackberry has expanded its famous application to other operating systems like iOS and Android by publishing the APK files for that.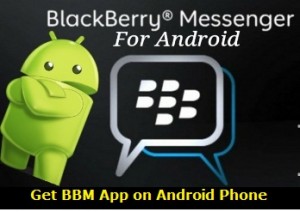 Messages in BBM are sent using the data connectivity one has in their phone,and it works on the pin based system.Unlike other instant messaging apps where you need a contact number in order to put them in your contact list and exchange messages with them, BBM uses pin based system.In order to exchange messages with other person you need to have his/her BBM pin which is generated when you register or sign-up for the the first time on BBM. With the release of version 5.0 Blackberry allows you to use a QR code to add your friends to your contact list rather than using only PIN based feature. According to their recent press release now you can get BBM App on your Android device also.

What is BlackBerry Messenger ?
It is an messenger application that gives you the privilege to have a group chat where many users can communicate with each other in a single session.It have a large collection of emoticons which you can use to express your emotions while chatting.As I said you need to have a internet connectivity in your phone in order to send and receive messages on BBM. You can use Wi-Fi as internet connectivity option or your carrier data plan. BBM also allows you to make voice calls to your contacts over your mobile network or Wi-Fi. You can even make video calls if your device supports it. You can send images, videos, contact information, share location, etc to your friends via BBM. You will have a real time confirmation that your message have been delivered and read. Blackberry introduced a feature called BBM channels where you can comment or like the channels. You don't need BBM pin of another person in order to discuss something on your favorite channel with other person.
Download and install BBM apk on your Android phone for FREE:
Step 1)   Make sure that your device supports BBM. It can be installed only on devices having Android version 4.0 (Ice-cream sandwich) and higher.
Step 2)   You can go to Google Playstore and install it. But as you know there are many fake applications in PlayStore so, in order to make sure that you have real BBM go to your browser and visit www.bbm.com this will take you to the official application in playstore. Click install and there you have it.
Step 3)   Sign in your app with a BBM pin if you already have it. If you don't have it, then it will be generated for you. A BBM PIN is a 8 digit alphanumeric code. Once you have signed in, you can start connecting with your friends and family who are already on messenger.
Related : Download Best Android Emulator for Windows 7, 8 and Mac PC
Related : Straight Talk APN Settings for iPhone, Samsung, and BYOP
Related : Gmail Settings for POP / IMAP / SMTP Servers
Features of BBM ( Blackberry Messenger) App :-
BBM is mostly used big corporate people and there are around 90 million users using that, so you can imagine the popularity of this application and the service it provides.
When Blackberry announced that it will release BBM apk for android users, social media exploded with tons of discussion on this. Earlier, People who like android but have their major contacts on BBM have to keep two separate devices one for BBM and another for Android or they use to keep only a Blackberry device. But when BBM released for android,it was a big success. With millions of people buying android devices and people already having android devices started using that. They no longer need to buy a separate Blackberry device just to use messenger. This increased the popularity of Android even among the blackberry users.
Hope, you have successfully installed BBM app on your Android phone and good news is that it's completely FREE.