eBuddy Messenger is one of the best web based IM client and being so popular many of your search for availability for Windows and MAC PCs.
eBuddy.com is the biggest mobile and web messaging service having more than 30 million unique users per month. They created first web browser based instant messaging service in 2003 and later on company was re-branded to eBuddy.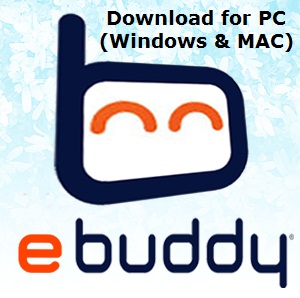 Same as Kik messenger, ebuddy enable user having MSN, G Talk, Facebook chat, Yahoo messenger to chat free of charge. Its currently available for Android, J2ME, iOS enabled devices.
If you planning to download eBuddy for PC ( Windows 8, 7, Mac ) to start using it right from your desktop then we've bad news for you. You can't download and install eBuddy on PC, There are so many junk sites telling but fact is there is no any official tool or application available for desktop.
But still we can manage to use that on Windows and Mac computer. Web messenger needs only internet connection and web browser to exchange information.
How to use eBuddy Messenger on PC ?
Simply, follow the steps given below to start using web messenger on your Windows 7, Windows 8, Mac and other operating system.
STEP  1)  :-   Make sure that your desktop is having active internet connection. Now open your web browser (i.e Firefox, IE, Safari, Opera etc ).
STEP 2)  :-    Now launch www.ebuddy.com site from your browser.
STEP 3) :-     Head over Sign up page and create your free account. This step is required to get Free eBuddy ID.
STEP 4) :-     Now add your IM client accounts to eBuddy. For that click on "Manage Accounts" link. Now click on Add an Account button on the top right hand side. It will ask you to choose from the IM network you wish to add. Simply add network ( MSN, Yahoo, AIM, GTALK, MySpace ) you want. Now you need to fill the login details of your IM network.
STEP 5) :-     Once you add IM accounts to your eBuddy you'll able to see your contacts in buddy list of eBuddy.
STEP 6) :-     This is the optional step and require only if you want to add new users/contacts to your eBuddy buddy list.
After adding IM accounts and contacts to your eBuddy for PC, its time to start sending and receiving with your family, friends, and colleagues.
All is set now and you're free to use eBuddy Messenger on your PC. So we've simply use eBuddy official website to chat with our group as we still don't have any official computer software or tool for this great messenger.