Kik is the most trusted and most rated social chatting and messaging application available for Android and iOs user. It is free app and that's why more and more user want to download KIK for PC having Mac and Windows operating system.
What is Kik messenger ?
Kik was founded in 2009 by University of Waterloo students and within a year it went viral and reach 2 million users. Today Kik Messenger is most stable, simple and fastest chat tool that almost every Smartphone user have experienced. Using Kik you can send text, images, video, smileys, sketches and many more.

Recently, They have introduced Kik Cards that comes with HTML5 features that allow you to search and send Youtube videos, Reddit images and many more without any additional download.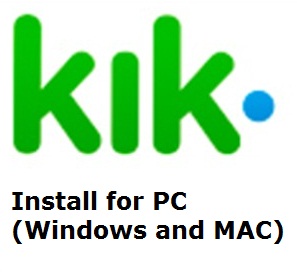 Many of my readers asking me that they want Kik messenger for their Windows 7 & 8, Vista and Mac Os, unfortunately currently we don't have any official Kik executable or apps that you can use for your PC. But we still come with interesting and helpful tricks that you can follow to download this wonderful messenger on your laptop or computer.
Step to Download Kik messenger on PC ( for Mac or Windows Os ) :-
Please follow the steps given below to install Kik on your desktop or laptop.
Since we don't have official package available for PC, we first need to install emulator on computer that will help us to find the mobile application file and which we'll install.
So first of all you need to download Android emulator like Youwave or BlueStacks.
Head over the zip or rar file and extract that on your PC. Check the readme.txt file to install emulator. Mostly package comes with executable file which you need to install with one click.
After successfully installing tap to it icon and open emulator and search for "Kik Messenger" app.
You'll see the list showing Android app, Simply click install button and wait for a while to complete the installation process.
Head up and click the Kik Messenger icon created on Pc and sign in with your credential to start using their awesome features from your Mac and Windows operating system.
Congratulation on getting Kik messenger on your PC.
So, We did nothing but we just get intermediate so called as emulator which run Android platform on our computer and helped us to install Kik messenger on PC.  Please take a few sec and feel free to share your experience with other readers.