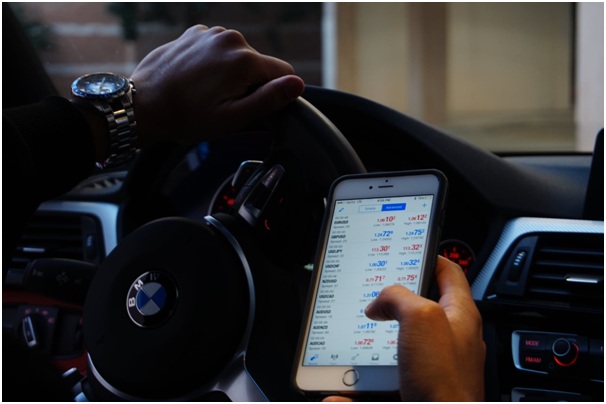 If you realize that your trading lacks an attentive assistant or want to delegate some of the routine work, pay attention to crypto software, which, if properly configured, does an excellent job with their work. Cryptocurrency exchanges like OKX  are characterized by increased volatility. Cryptocurrency rates for them change quickly and quite unpredictably. Therefore, such technical tools as trading bots are very popular among traders. Bots help monitor quotes 24/7, avoid "surprises" in the form of margin calls, and close deals faster and more efficiently.
What are trading bots?
 A crypto trading bot is a software with special algorithms that analyzes data from cryptocurrency exchanges and provides additional tools for more efficient selling. Bots were created to automate and facilitate the work of traders: you do not need to constantly sit in front of the monitor, tracking changes in quotes – you can simply set parameters for the bot, which will buy or sell currency for you. It is another tool you need to know if you want to have a passive income like with crypto saving accounts. With the help of bots, you can trade on several exchanges and not limit yourself to one currency. What can we say about the superiority of the bot in the reaction speed – the program quickly and with high accuracy finds signals and places orders.
Best Crypto Trading Bots Platforms
B
itsgap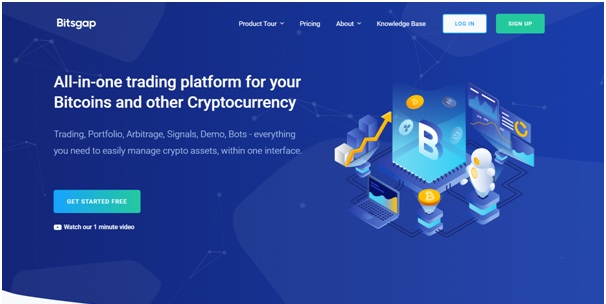 It is an automated crypto robot based on the GRID system – a grid that allows you to build many levels of purchases and sales. Thanks to high-frequency trading, the bot not only allows you to make good money at a distance but also to diversify risks in case of high volatility. Bitsgap also has a demo version of the platform so that users can practise trading first. This is a great way to understand how the platform works without risking real funds. Bitsgap supports over 30 exchanges and is officially listed on Binance and OKEX. All transactions take place through the exchange API, so the platform does not have any access to your money. New users can try the platform for free for 14 days (no credit card required). Then either uses the free version with restrictions or buy a paid subscription, which starts at $ 19 per month.
H
aasbot
Haasbot is a Bitcoin bot that was developed by HaasOnline in January 2014. It is supported by many of the trusted exchanges like Kraken, Huobi, Bitfinex, BTCC, GDAX, Gemini and Poloniex. The bot automatically trades bitcoin and many other altcoins on these services. The software analyzes market information on behalf of the user but requires your participation in the process. It is customizable and equipped with technical indicators. Haasbot displays trending templates that users can use to trade bitcoin. For optimal results, Haasbot owners must seriously engage in bitcoin selling in order to generate reasonable returns.
T
rality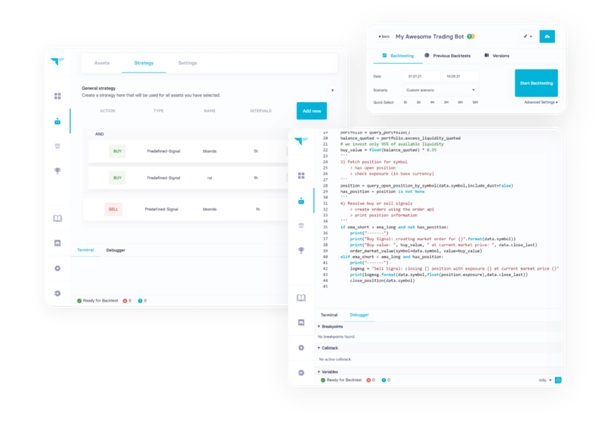 The Trality platform was founded in 2019. Since then, it has been actively developing the best tools for creating trading software for private crypto investors. Unlike other platforms that offer ready-made and identical programs to all users, with the help of Trality, you can easily create your own one for both beginners and advanced crypto traders. However, a set of templates is also available.
What is interesting about Trality for users:
Rule Builder is a graphical Drag'n'Drop editor for creating bots based on a sequence of logical rules;
Code Editor is the first browser-based code editor for writing bots based on Python;
Backtester is a tool for testing on a large volume of historical data;
Virtual trading – the ability to trade virtual tools for testing in real-time;
API Connection to Exchanges – created bots can be securely connected via official APIs to exchanges such as Binance, Coinbase Pro, Kraken and Bitpanda;
Cloud infrastructure – no additional software is required, all operations take place on cloud servers to ensure uninterrupted trading 24/7
Affordable Pricing – Free and unlimited time subscription with access to all tools, paid subscriptions from 9.99 to 59.99 euros per month.
Summing up, we can say that Trality really deserves attention, in view of how actively the platform and its functionality are developing, while maintaining affordable subscription prices. In addition, the developers plan to launch a marketplace for bots, where the creators can safely rent them out to everyone.
Cryptohopper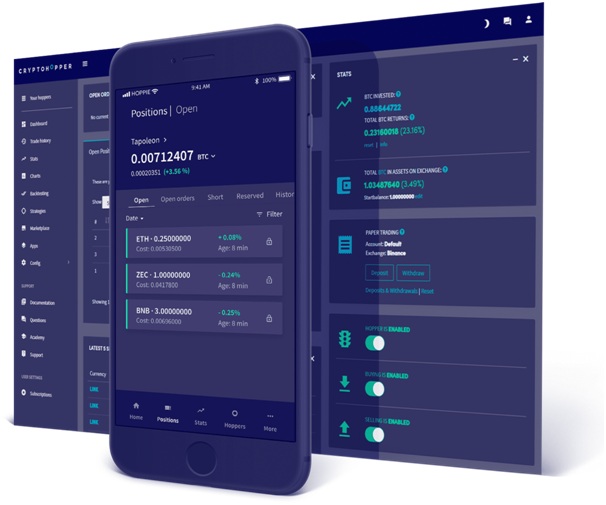 This crypto bot supports most of the popular exchanges and offers a wide selection of cryptocurrencies, up to 75 pairs can be traded at the same time. For professionals, manual bot setup is provided, while beginners will be interested in trading using strategic models based on the recommendations of experienced traders. Cryptohopper has a fairly simple and pleasant interface, it doesn't take long to figure it out. In the free mode, the bot can be used for 7 days, after that the starting tariff with the minimum capabilities will cost $19 per month, the most charged one – $99.
Gunbot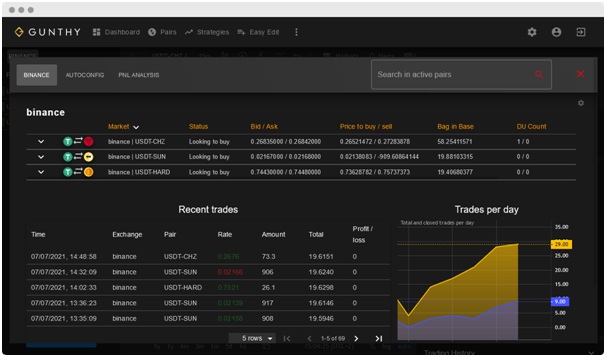 Gunbot is a cryptocurrency bot that supports a fairly large number of exchanges, while you can trade on several at the same time. Registration on the platform is fast, you can start working in 5 minutes. To use the platform, you will need to download the software to your computer. There are ready-made strategies as well as a wide range of settings to create a strategy for yourself. Unfortunately, Gunbot doesn't have a free trial, and prices for bot payments start at 0.02 BTC. But there is a plus – you buy a license once and for all. You don't have to pay it every month.
T
he bottom line
Cryptocurrency trading is not suitable for everyone and software can be confusing, especially for novice traders. There are many exchange bot providers on the market. Choose them carefully! Users must ensure that the developers they choose are reliable. If you don't do your research, you risk losing your capital or losing your account on the exchange. However, if the bot is selected and configured correctly, the potential profit from it is endless.