Have you ever seen different types of ads and adware popped up when you are surfing specific sites from your Windows and Mac PC? Maybe it happens that you visit one site because you see an ad that piques your interest.  Then, it seems like that ad shows up dozens of times each day, after you have visited the site. You should completely clean out such malware.
Or, maybe it looks like there are links within a webpage, but actually, every time you click on one of these links, it takes you to some random page, where it tells you, you have won this, that or the other thing.  Well, the chances are then, that you have adware on your computer.
What is adware or malware?
Adware is the shortened name of 'Advertising Supported Software'.  It is essentially any software package which automatically places advertisements in order to generate income for its author.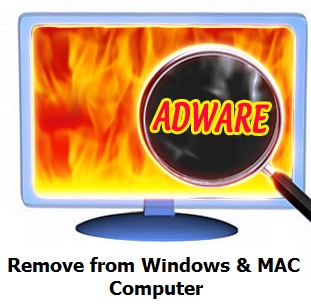 These are often inadvertently downloaded, when one downloads free software.  This is the whole reason that the initial software is free.  It takes time to develop a program, so if someone can give it away for free, then there must be another catch somewhere.  And often, it is in the form of adware.
Fastest way to remove adware from Mac and Windows PC
Adware can often slow your computer down. The severity of adware can vary though.  Some people see it as an 'irritant', while other people go as far as to class it as a virus.  It can also be classed as 'spyware', where the software will observe the computer users activities (without their permission), and sends this information to the author.
There are many programs that have been developed to detect quarantine and remove adware.  One such program is www.bitdefender.com
Having had a lot of adware myself in the past, I decided to do some research. And all the research that I have completed, has pointed me to bitdefender as the BEST in the business. It is available for Mac, Windows 7 and 8 PC.
Bitdefender has been rated as the best protection for 3 years running by PC MAG, so you know that it must be very good (this market is fairly saturated now, with all sorts of companies offering virus protection).  Yet, bitdefender has been at the top of the list for the last 3 years (ahead of the likes of Symantec and McAfee).
BitDefender Total Security Features:
It has the fastest system speed (confirmed by AV-TEST).  Therefore, it has the lowest effect on the performance of your computer.
It is one click easy, making it simple to understand.
You can use it to store and protect your personal photos and videos, with secure online backup.
Device Anti Theft.  You can recover your device in case of loss or theft.
And if you have children that use your computer, there is also parental control that you can put in place, to prevent them from viewing sites that you don't want them on.
I know that I used to get lots of adware on my computer in the past.  But now, with bitdefender, I never worry about any of it.
Check Also : VBA Password recovery tool
It is so easy to use, and they stay up to date on a regular basis.  So if anything new comes out, their programmers will be on to it in an instant, meaning you have the latest and greatest protection.
Read : iPhone 6 unlock Method
I have not come across anything better to use, and highly recommend trying it out. It is one of the best way to get rid of unwanted popups, ads and system adware. You are requested to post your queries and question by commenting here.