WordPress themes have made it easier to set up an online business. You can quickly launch an online store and begin selling things using the WooCommerce plugin.
Fast forward, the top WooCommerce WordPress themes are visually appealing and may help your business grow. You might use them with the best eCommerce site builders to create the online store of your dreams on a shoestring budget.
There are, however, a variety of WooCommerce WordPress themes available, each with its look and feature set. You must select the one that best meets your requirements and contributes to your company's growth. This post has compiled a list of the top WooCommerce WordPress themes fea.
What To Look For In A WooCommerce WordPress Theme?
These are the things to note when choosing a theme since choosing the appropriate theme is critical to the success of any website.
#1: SEO
SEO is one of the most important elements to look for in a WooCommerce theme. This tool aids in the improvement of your search engine rating, allowing you to appear higher in search engine results.
#2: Speed Optimization
A quick-loading website is critical for a positive user experience. The speed with which a website loads significantly impacts the bottom line of an online company. If your site takes longer than 4 seconds to load, you may lose 50% of your visitors. Furthermore, loading speed is a Google ranking element, which means it will affect your Google search engine rankings.
#3: Customization Features
Customizing your selected theme is a fantastic application that enables you to customize your site while meeting your branding requirements.
#4: Mobile Design
Without a smartphone web design, you risk losing half of your company. Use smartphone WordPress themes adaptable across all screen sizes to avoid this.
#5: Good Navigation
If buyers can rapidly discover what they want, they are more likely to purchase. You want the client to stay on your site and look around. This needs a user-friendly design that facilitates navigation. Some items include sensible types of products and a search option with filters.
#6: Multi-Language Features
E-commerce is a typically global business that allows you to expand your reach beyond geographical limits. International themes that offer visitors to explore in the language of their choice are a terrific approach to growing your consumer base. The WPML plugin, for example, may assist in establishing your site in different languages.
#7: Google Analytics
Google Analytics is a wonderful tool that may provide your company with valuable information from your website. You may obtain vital customer data such as demographics and place of origin, which can be utilized to develop customized marketing tactics to increase conversions.
#8: Review Section
An important component of internet retailers is a review area. Most internet customers now depend on reviews and feedback when making purchases. Customers will trust you more if your WooCommerce theme has a testimonials area.
List Of The Best WooCommerce WordPress Themes In 2022
Here is the list of the top 10 WordPress themes in 2022.
Botiga

Botiga's design is adaptable to a variety of eCommerce platforms.
Botiga and its minimalist style will appeal to you if you want to guarantee that the store's design does not overwhelm your guests. This theme's design will assist your items in attracting your guests' attention as soon as they enter your business.
Rey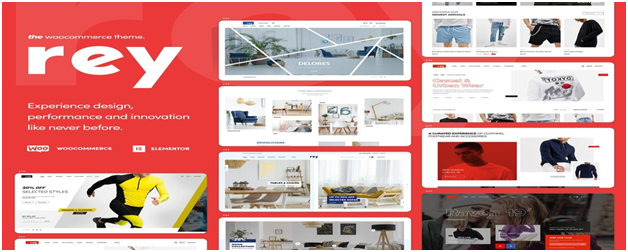 Rey is a trendy WooCommerce WordPress theme for fashion and textiles.
This excellent WooCommerce theme offers a multitude of online store designs. Although this is mostly a fashion and clothes eCommerce theme, it also has demos for various items and online stores.
Porto

Porto is a versatile WordPress theme that can be used for various applications, including e-commerce sites.
One of the advantages is the enormous number of features and website designs you gain access to when you choose a multi-purpose WordPress theme such as Porto for your eCommerce business.
Glowing

Glowing is a multi-purpose WooCommerce beauty & cosmetics theme.
The Glowing theme bundle includes eCommerce demonstrations for developing beauty and cosmetics web businesses and other comparable projects. While each sample is unique, they all have a common aesthetic that may be defined as clean, contemporary, and minimalist.
Astra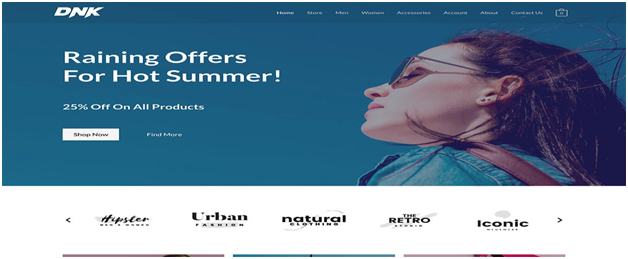 Astra should always be able to assist you in quickly launching a professional-looking Online store thanks to a stunning range of beginning themes. There's a strong chance you'll find something that fits your business here, with templates spanning a wide spectrum of eCommerce projects.
TheGem

TheGem is jam-packed with functionality and templates that will assist you in building any form of online shop with WordPress.
The Gem includes a collection of 15+ eCommerce shop page demos that can be loaded to WordPress and then used to sell various things online.
Haaken

Haaken is a WooCommerce-compatible fashion store theme.
Haaken is ideal for various fashion shops, thanks to its six elegant eCommerce demonstrations. Whether you offer a large number of products or only a few, you'll discover a variety of designs to help you showcase your business and its products properly.
Kalium

Kalium is a versatile theme that may be used for various purposes, including the creation of online storefronts.
Everything you need to start an online store is included in the Kalium package, thanks to the great service of the WooCommerce plugin.
Jayla

Jayla, with its ten pre-built online shop examples, may assist you in setting up various eCommerce sites using WordPress.
The material may be loaded into your site in no time after choosing a demo, whether it's the pre-built clothing store, home furnishings demo, or sunglasses bundle.
Wooler

Wooler is a WooCommerce shop builder theme that may be used for various purposes.
Wooler comes with a demo library that is diverse enough to allow you to create practically any form of eCommerce shop using WordPress and WooCommerce.
The Final Verdict
Choosing the correct theme necessitates a thorough investigation. The themes described in this piece are unquestionably the greatest WooCommerce themes available right now, and they should be enough to assist you in creating a fantastic WooCommerce store.