Have you ever seen YouTube profile or video with some stunning banners? According to social media expert using templates on our video increase its conversion by 200 percentages. That's why you should think to do same for your videos too; after all we are here to do some smart work and NO more hard work? Do you agree with that? I am sure; you must be agreed.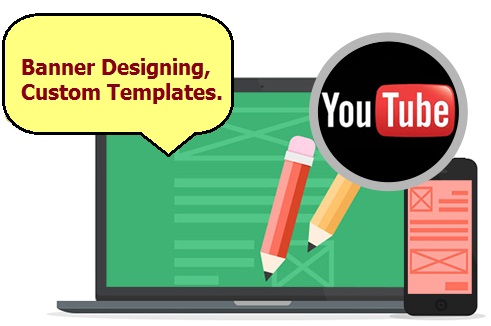 We can make our YouTube page more beautifully by adding some banner design. Some of user may already aware about creating and designing banner for their YouTube account. But there still plenty of peoples who don't aware the process for creating and uploading such templates on their video. Actually, It is an extra features that YouTube.com provides to each of their member and you can get much more benefit from that feature. Do you know? Such banners are also used by the company as space for their advertisement. Ok now let me share my experience about creating stunning and beautiful banner design that you can use for your any YouTube channel to get huge number of traffic. It is not a hard and difficult step.
How to Create and design YouTube banner templates ?
Below are the simple and easy to follow steps that you can use to have an attractive banner. Before giving you steps let me tell you that, YouTube standard banner resolution is 2560 x 1440 Pixel. So you need to keep dimensions of your banner within that so that it look like professional.
YouTube also provide us with the Photoshop template so we can design the right size of our banner design.
We can use the adobe Photoshop to edit this banner.
Another way to create a beautiful YouTube templates is by using the third party web like banner maker. Nowadays many websites also offer the simple way to build a eye catching YouTube banner design, For example we can use the "Bannersnack" and inside that we can choose the size of the banner, texts, images, shape, and illustration to add a personal YouTube banner design. Bannersnack is very simple just a click of every element by drag and drop to move it anywhere, compared to Photoshop that you require to understand the layer, etc. It offers the ease of usage for one who isn't really expert in photoshop, but still you can have a good and appealing banner design, if you want to try just visit the official site given here and follow the simple instruction.
Check also, How to remove Internet Explorer 10 from PC.
To add the "Channel Art" to your YouTube, make sure that you already login to your YouTube account,
Open your channel page, then just simply click add channel art at the top of your channel, or for you that already have your old YouTube channel art, you can change it by clicking the icon like "Pencil" and choose "Edit Channel Art".
Upload your design banner
After you've done the upload, you will see the preview that will appear in other devices and you need to adjust until you think it is done.
Remember that when we create the banner in YouTube it can be viewed across our devices such as a Smartphone, desktop and TV. So we recommended that you create a banner with 2560 x 1440 pixels and the minimum resolution should be 1546 x 423 pixel. Remember, when we kept that smaller it possible that some text of logo will be cut off, so make sure to check the required size and create accordingly.
Related : How to recall an email in outlook 2007
Hope you enjoyed my tips and tutorial, so implement that now and let see your YouTube channel more beautifully.