Do you want to record video footage from a game that you're playing to show off your skills, help others with walkthroughs, or maybe even create other kinds of content such as a timed 'speed run' video? The problem with many game recorders is that they are decidedly not user-friendly, but there are exceptions to that.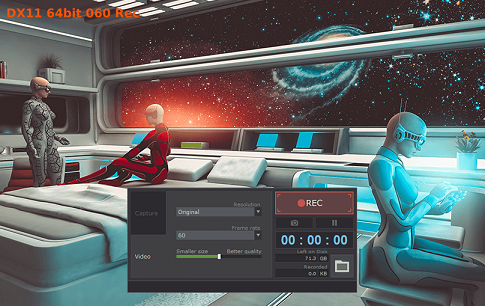 If you'd like a user-friendly and specialized game recorder you should try Gecata by Movavi. It will make it easy to record gameplay on PC, and can be set up quickly while still allowing you to adjust all the recording parameters and record exactly the kind of video that you want.
To get started, launch Gecata by Movavi before you start playing and in the 'Capture' tab set the 'Capture mode' to 'Game'. Next, click to toggle the icons on the interface to set it to record audio from the 'System Audio' or 'Microphone' (or both), as well as video from your webcam.
If you want you can then open up Gecata by Movavi's 'Settings', and select the 'Capture separate streams' option if you'd like the webcam video and microphone audio to be saved as separate files. Additionally you can open the 'Webcam' tab in the 'Settings' to adjust the parameters of the webcam video and overlay it onto the gameplay footage that you record by controlling its size and position.
Back in the main interface, you can then open the 'Video' tab and set the resolution and frame rate of the gameplay video that you intend to record. While Gecata by Movavi will let you record high quality and smooth videos at 60 frames per second, remember that the higher the frame rate the larger the video file size will be.
That is really all that needs to be set up, and if everything is to your satisfaction you can launch the game that you want to record and start playing. In the upper-left corner of your screen you'll see some green text that indicates Gecata by Movavi is ready to start recording.
All that you need to do to commence recording is press the 'F10' key on your keyboard at any time, and the caption will turn red to let you know it is recording. When you're done press 'F10' again to stop recording, and Gecata by Movavi will automatically save the gameplay video onto your hard drive.
As you can see not only is Gecata by Movavi far more user-friendly than most other options you may have encountered, but it will make it easy to customize the recording as and how you see fit. In short it is a great way to start recording any kind of gameplay video, and you should have no difficulty whatsoever using it.