Review : Lexical Word Finder is a very neat tool that could help you breeze through any word game played against your friends or the computer. With it, winning word games in a very convincing manner is much easier done. So if you want to be hailed as the next word guru, this tool is all you need.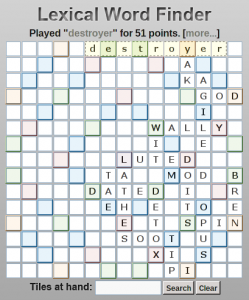 What is exactly is the Lexical Word Finder?
It is both a mobile application and an online tool that helps you search for the best move in any word game. Simply feed the program the type of game you're playing, the board's current layout, and the tiles you've drawn. Run the program and in seconds, the best possible move will be suggested to you. That assures you of a maximum score in every turn.
For what games can it be used?
Lexical Word Finder is compatible with almost all types of word games existing today. You can use it while playing online word games and physical board games. The games you can use it for are:
Scrabble
Super Scrabble
AbbleDabble
AlphaJax
Wordfeud
Droidwords
Lexulous
Literati
Word By Post
Word Chums
Wordsmith
WordScraper
WordWise
Words with Friends
Wordz
If you are playing an online game, Lexical Word Finder can also be calibrated to use different dictionaries such as Enable, OSPD4, SOWPODS, TWL, CSW, ODS5, and YAWL.
How to use Lexical Word Finder ?
In order to use that in your mobile device, you have to first download the app and install it accordingly. There's an online version of its program as well, which is ideal for desktop and laptop computer users. No need to download the program, just use the tool by performing these steps:
1. Select the type of game you're playing.
2. Populate the board with the letters or words that have been put into play. Make an exact replica of the board on the Lexical Word Finder tool.
3. Type in the letters that are available in your rack.
4. If you have a blank tile on the board, use an uppercase letter for it. Be sure to type in the rest of the letters in lowercase.
5. Click on Search to start looking for the best move when your turn comes.
It's very easy to be the best word game players with Lexical Word Finder. However, its main purpose is not just to let you win any word game – you also have to learn from its techniques and remember most of its useful word suggestions.
But don't rely on the tool so much when you play. While it's indeed a cool app, nothing beats formulating your own moves and winning the game out of your sheer efforts. After all, this tool may not be that useful if you only have 30 seconds to make a move.