Speedtest.net is preferred tool to test internet speed of Brighthouse Networks for your mobile device.
The Brighthouse Networks is a top provider of online TV programs, high speed internet, home phone, and home security services. Their network will connect you to the rest of the world and will let you do things that you enjoy best. These days, the internet is no longer all about your immediate circle of family, friends, and peers. It's all about reaching out globally.
When using the Bright House Network for anything, it is very important that you maintain a high speed connection. That will make your viewing experience hassle-free, while allowing you to maximize the use of the other services provided by the network.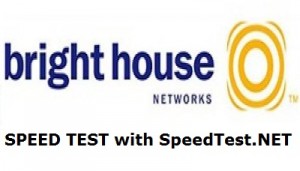 While the BrightHouse has an online speed checker that your computer can use, it can't be utilized by mobile devices. To test whether your iPhone or iPad is suitable with Bright House, what you may use instead is a speed checker called Speedtest.net
What is Speedtest.net ?
It is a mobile speed test checker created by Ookla. It can be downloaded via iTunes and may easily be installed on iOS devices. It is a universal iOS application that can also be used on an iPod Touch. Its newest feature is the landscape mode and a speedometer that dynamically adjusts to facilitate high speed connection. With this app, you can easily choose a server that will provide you with the best possible speed at the time that you connect.
Tips for Brighthouse Speed Test using SpeedTest.net :-
Below is a guide on how you can use SpeedTest.net when testing it for use with the Bright House Network.
Download the app on your mobile device
Run the software to determine your current download and upload speed.
Test for speed all the servers available on the list. That way, you will be able to determine which one will provide you with the fastest connection.
Check your settings and adjust them as necessary.
Pick the best server and configure your device to use it every time it connects to the Bright House Networks.
Speedtest.net is a simple yet effective app to test network path connectivity. It provides accurate network metrics such as download, upload, and ping speed. While it may not provide further services like a network performance test, it is still very useful when checking available servers for speed.
The latest version of Speedtest.net is 3.2.0. It is a highly downloaded speed checker tool today because it offers one-tap connection testing with results delivered in less than 30 seconds. And it will work on almost all networks, including hotspots and public Wi-Fi zones of At&T.
You should check out other related post :
After download and at the time of using above tool If you face any difficulty you can contact us. Please be specific with the problem you are getting, so that we can address that correctly without any delay. Also share this informative tutorial with your friends on Facebook, Twitter and other social sites.