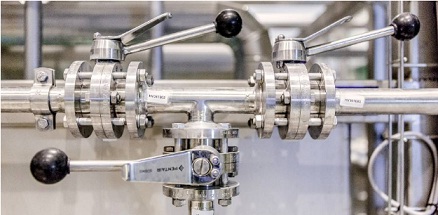 A recurring issue in the pharmaceutical industry is the unresolved weakness in manufactured components used. This resulted in shortages in drug production making it inevitable as caused by the quality and maintenance issues experienced by the components for production. How do we turn the tables in the pharmaceutical industry? Support operations with superior quality components to run the production.
One of the most important components is valve actuators. They aligned the quality and maintenance of these products with the advancement of technology. The benefits they offer extend not just in cost-efficient solutions but as well as in maximizing the uptime during operations. To give you a preview, here is what you need to know in choosing the right valves and valve actuators.
Valves vs Valve Actuators: How Do They Differ?
Valves are known to be responsible for controlling the flow of different types of liquids and gas running within the line. There's a variety of valve types supporting different operations in different industries. They are designed to be unique and resilient in regulating and halting the flow of materials. The most common type of valves in operations are 2-way and 3-way valves. Both of these can work well in controlling air pressure, hydraulic fluids, and electric current.
On the other hand, the valve actuator is a device designed and built within the valve housing with the ability to dictate the regulating and halting of the controller system. Just like valves, they come in different types too. The most commonly used actuator types are rotary, fluid power rotary, and manual linear actuators. Valve actuators have their distinct applications to serve considering the number of industries in need of shut-off devices and support.
These two most important components in operations are mistakenly known to be the same thing even though they are completely different. A valve controls the amount of media to be transported into the line. They are either manually controlled to function or set in a specific position to function in accordance with the operation. An actuator implemented within the valve body is installed and programmed to regulate and halt operations at specific patterns or intervals.
Important Considerations in Valve Selection
The pharmaceutical industry requires an operation which is clean and safe free from contamination. More than just the environment, the components the operations utilize should be of the best quality too. Since the industry is dealing with the bigger and more complex, they require components with the ability to exhibit safety, efficiency, quality, and success. Here's what you need to consider in choosing the right valves suited in the pharmaceutical industry.
Type, Size, and Material
See a reliable valve manufacturer for purchasing of valves and its components. Top performing industrial valve manufacturers offer various ball valves, gate valves, butterfly valves, check valves, and globe valves. They designed these valves varying in type, size, and material to support different applications. These valves are able to sustain different levels of pressure and temperature.
The variations in valves deliver smoother operations that have the ability to deal with different types of media. In the industrial community, they ensure that the valves they use can keep up with complex operations.
Shut-off Feature
They are required to have a shut-off feature that ensures that materials are completely stopped from flowing. Apart from the fact that they should keep up with complex operations, they should also be able to manage stand-alone operations.
The closure performance of valves plays a very significant part. They should be able to support the needs for powerful shut-off performance in different operating conditions. When a valve has improper closure, this can result in malfunctioning and failure in operations.
Compatibility
Industrial manufacturers continue to design, produce, and distribute different valves aligned to technological advancement. They want to provide the best set of valves for different industrial applications considering that they don't suit all. Manufacturers ensure that before purchase they conduct an evaluation. This will buy them the time to provide the valve and its components which best suit the supporting industry.
Conclusion
In the pharmaceutical industry, the components used are ensured to be of the best quality. Not just in performance, but as well as in durable design. When operations experience malfunctions, valves are designed to be resilient and safe. They are undergoing a continuous process of development perfecting what more can it do to different industries. As they play an important role in the pharmaceutical industry, operations should run smoothly, safely, and free from contamination.