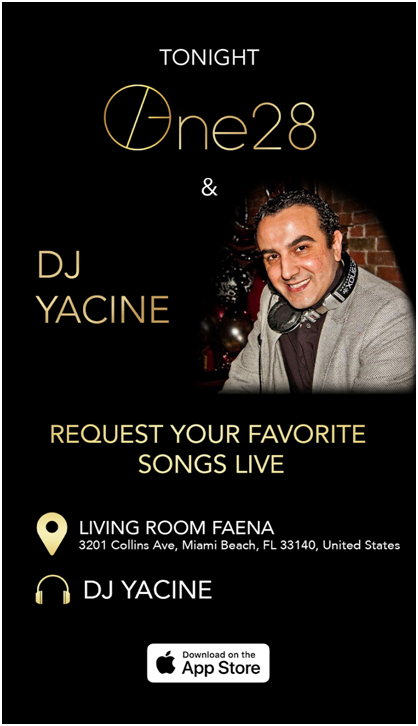 Miami, known for its electric nightlife, got a little hotter last weekend with the first use of One28 in America. The app, which provides a smoother, faster way for clubbers to request their favorite songs from DJs, was launched at the Faena and Bagatelle, where DJ Yacine tried it out and gave it excellent reviews. Now, as the app spreads through Miami's club scene, it's worth asking this question: what difference can hearing your favorite music make on your night out? Isn't a song just a song?
"Not even close," says Adrien Crastes, Founder and CEO of One28. "It's like driving a so-so, get-around-town car and a red convertible: one is good enough and serves its purpose while the other really gets you energized. It's the same thing with music: when you hear your favorite song, your emotions are heightened, and you engage more with the venue and even the people around you."
Adrien invites you to remember the last time you were at a party, one that was a little bland. There was probably music, but it wasn't anything you particularly enjoyed. Then "the song" came on, whoever the artist might have been, and you perked up and really tuned in to it.
"That was when your heart rate accelerated to 128bpm, which is the peak of adrenaline," Adrien explains. "You had gotten out of that junk car and were now flying along in the convertible. It made the whole party look different, and when you went home that night, you were probably still humming that song in your head."
So, what does the One28 app mean for partygoers in the United States, where everyone knows how dead some venues can be?
"If the right songs can make or break a party, then it's time to make sure more of the right songs are played," says Adrien. "The One28 facilitates this, and it's a very simple process no matter how dark or loud the venue might be."
As clubgoers at Miami's Faena learned, music requests are submitted to DJs through the One28 User App. DJs, in turn, receive the requests on the One28 DJ App. The DJs then select the songs to be played, and requesters are notified via the app if their songs are declined.
"You can always submit another request if you like or even increase your bid to try to incentivize the DJ to play it," Adrien says. "It is straightforward communication: with the app, it's like you're standing right next to the DJ, requesting songs, but this way, you don't have to yell over the music to make yourself heard."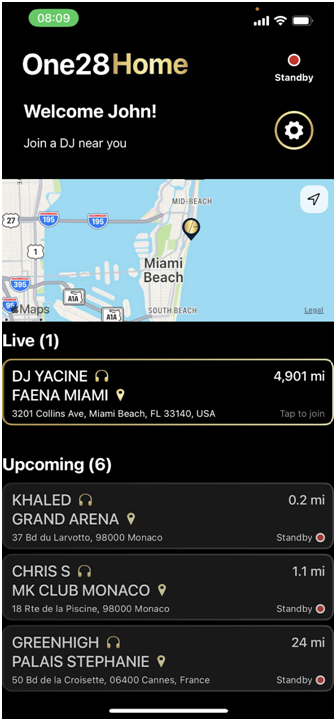 It's easy to envision the impact One28 will make on parties and nightclubs. How many of us have sat through (very) long nights out, listening to song after song being played and wishing the DJ would play something different? With the One28 app accessible on a phone, a person can scan the Internet if they don't remember the name of a song or artist, then just turn around and submit their request to the DJ.
"One28 is having a big effect on venues," Adrien says. "I was there for the app's launch at the MK Club in Monte Carlo with DJ Chris S this summer, and that night was a blast. A lot of people were on the dance floor, and we all know how rare that can be."
With the One28 app sweeping through Southern Europe and being used in Florida, audiences now have more input into a DJ's song list. "The next time you get ready to go out, remember One28," says Adrien. "It can make your time in a club or at a party everything you want it to be: just plain fun."
One28 offers the possibility for partygoers to hear the song that can take their heart rates up to 128bpm. DJs can accept or decline tipped, audience-fed song requests in the most optimal manner both for the DJ and the partygoer. The DJ ultimately keeps full control, and if they deny a song, they can leave a comment to the partygoer explaining why. 
One28 began offering its app to DJs this summer, and it is now transforming the club scene in Europe and the United States.
For more information, please see its website, download the One28 user app or One28 DJ app.